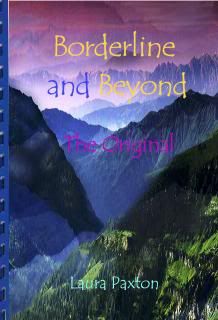 I'm feeling really excited about the whole new set of Borderline and Beyond products soon to launch. For those who remember, when I was in my mid-twenties, I wrote a book, spiral bound it and sold it on a personal website and on Amazon. The book became a niche best seller and so it was re-published as a book and workbook set. My book has been revised twice, once to include "spiritual" principles and once to include applications to autism.
The strangest thing has happened since the last revision- I've continually received e-mails to bring the original book back. I've seen my original books being sold on E-bay for outrageous prices. The first was the best and so I'm bringing it back now-- but with much prettier covers!
Look, I even have a "fake spiral binding" graphic! Doesn't it look real?
Here's a picture of the accompanying workbook. I'm really happy to have my original book back. Also, most of you know I haven't had a website since 2007, when I let laurapaxton.com go. Carmelheart.com will be launched soon and these books will be for sale along with a Borderline and Beyond E-book and a way-cool App.
I'll also be showcasing books I've published for other authors, including Terry Ianora, OCDS and I'm working with three other authors to bring their dreams to press!
You'll also see my books on Amazon and Barnes & Noble soon. I'll let you know when they are up.
This is an exciting time. I'm happy to share it with you.